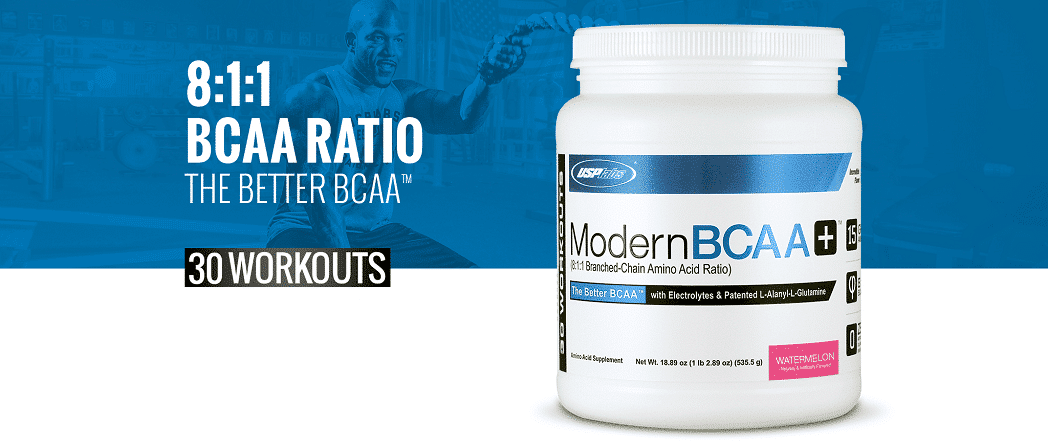 USP LABS MODERN BCAA
What Is It? 
With over 90% of active ingredients per serve, Modern BCAA has stepped up their intra-workout nutrition game and loaded their amino acid product with only the best ingredients at max dosages.

Utilising an 8:1:1 ratio of Leucine to Isoleucine and Valine, Modern BCAA utilises a high dose serving of the most anabolic amino acid to ensure maximal growth and recovery is achieved.

Combining high-dose BCAA's with added amino acids and supporting electrolytes for hydration, the Modern BCAA blend is a truly modernised approach to optimising recovery.  
USP Labs Modern BCAA Benefits
Amazing taste
Powerful 8:1:1 ratio of BCAAs
Anti-catabolic
Preserves lean muscle mass
Promotes muscle gain
Enhances muscular endurance
Increase muscle recovery
Enhance performance
When Do I Take It?

Mix 1 serving (2 level scoops) in 600ml of cold water in a Supps42 shaker. Shake it up and sip on during your workouts and / or throughout the day.
Price
$59.95

 

(Includes Free Express Shipping!)
Serves 

Price per Serve 

Flavours
Blue Raspberry
Grape Bubblegum
Honeydew Melon
Pineapple Strawberry
Pink Lemonade
Raspberry Lemonade